Planning to hire a ghostwriter in Houston, Austin, Dallas, or anywhere in Texas? Or perhaps you're looking for publishing services for your ebook or paperback? Well, congratulations on your journey toward greatness!
Now the real work begins.
Finding a quality yet affordable ghostwriter or agency that can understand your tone, meet deadlines, and deliver high-quality work is the real work.
And you don't just need a ghostwriter for hire, but a book writing and publishing agency in Texas that can help you with publishing, marketing, printing & distribution. Also, lets you keep all your book royalties, copyrights, and full ownership.
Don't fret – you don't have to break the bank to get an ebook written and published. We've conducted the necessary research for you and in this post, you will get to learn the pros and cons of the shortlisted top companies and compare the top professional book writing and publishing agencies in Texas.
Hence, look no further, here are the shortlisted top 5 ghostwriting firms based in Houston, Austin, Dallas, and other cities within Texas, that service all of Texas, and did a competitive comparison below for you to make an educated decision.
6. Brown Books.
Brown Books is a US-based publishing agency in Dallas, Texas that specializes in fiction, non-fiction, autobiographies, novels, self-help, health, business, and children's books. On their website, you can explore the best-selling books.
I love that this company has a team of skilled professionals. There are Publishers, distributors and marketers for books and authors that offer both book ghostwriting and book publishing. Overall, this is a publishing-focused company, that offers other services such as writing and book reviews, at the side.
But There's A Catch…
The company seems to have given itself awards, proof of which does not seem to exist online. Companies to tend do that nowadays.
On deeper inspection, I noted that their employees are not happy, please find proof below. The word "Toxic" kept coming up, which is certainly a red alert. As a customer, you might be wondering,
"How does that affect me?"
The answer is simple, it will rub off on you. And it has, as seen above with a review a customer has given brown books:

Another brown book review on Google: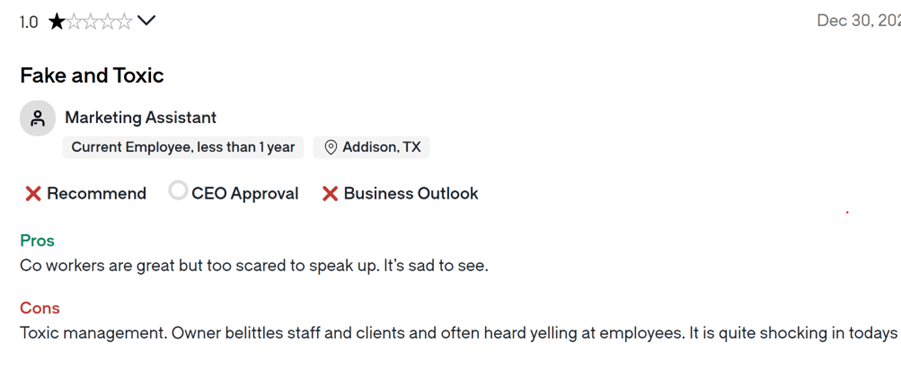 This is another book ghostwriting and publishing agency, located on Gaylord Pkwy, in Frisco, Texas.
(Yes, you read that right.)
This company does overall have a good reputation and good reviews, they offer book writing services as well as publishing, marketing, and editing services for authors.
Even though their website is pretty basic, the company is legit. There are not many details on their website which is a little weird, but that's okay. We looked a little further:
Cons:
For starters, this is a company that will charge you an arm and a leg, literally. So, if you want to pay a fortune, go ahead, but note that there are much cheaper solutions suggested below.
But this information is not available on their website, no defined pricing structure at all.
Companies usually do this to get you on the phone, see how rich you are, ask you your budget, and then give you a custom price point where you are severely overcharged for something that doesn't cost nearly as high.
Other than that, the company has good reviews on Google and on Facebook, some reviews were bad, but that's okay, it's usually how it goes.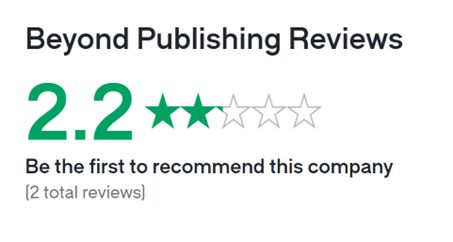 Apollo Ghostwriting is your one-stop eBook ghostwriting service and online self-publishing service. Professional writers and marketers are on staff at the company, offering a broad range of services.
Their comprehensive services include ghostwriting, editing, cover design, social media marketing, translation, publication, printing, video trailers, and audiobooks.
From the initial draft to a successful publication, Apollo Ghostwriting is the one that makes it happen. They also offer additions, revisions, and re-editions of your work.
The process is pretty straightforward. You place your order, and their writers craft a rough outline. Once it's ready, they send it to you for your approval. After receiving your consent, they proceed to work on the final draft.
On their website and Trustpilot, you'll find testimonials from satisfied clients who have experienced their services firsthand.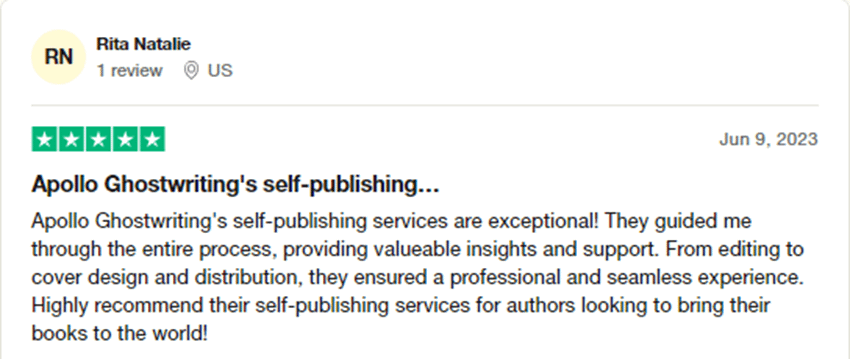 But The Same Old Issue….
Trustpilot has four positive reviews, as I shared a screenshot above. However, it's worth considering that all four reviews were posted within a span of 1-2 days in the same week. (suspicious…)
It raises the question: where is the feedback from the rest of the clients, especially given the company's 12+ years in business? It's simple, it's a new company faking its history.
Even on Google, they just have one review. Which is again, odd. This review was also only a month ago. That doesn't mean that the company isn't honest, or not good, more so just someone who is new in the industry but still, leaving fake reviews is not good business practice.
Book Writing Professional promises to fulfil your writing dreams. If you are an aspiring author with lots of ideas but lack the tools and time to implement them, this company's ghostwriters for hire and self-publishing options are worth looking into.
This company offers a wide range of writing services, which includes ghostwriting, cover design, editing, publishing, press release, and SEO writing.
They claim to have been in the business for over a decade, and that their professional team consists of writers, editors, proofreaders, and consultants.
They claim to have written numerous best-selling books in different genres over the years. You can view the list on their home page.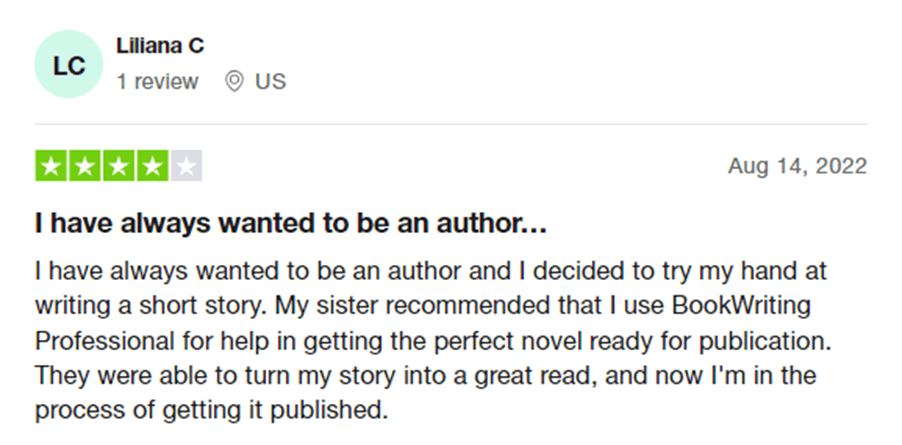 The Not So Good:
This company has 38 Trustpilot reviews, all from summer 2022. Nothing after that.
What might have happened after August 2022? We don't know, folks! What happened before that? Again, there is nothing. Remember, this Is a company that claims to be active for ten years. The reviews due to this, seem fake.
They also do not have a Google listing, which is weird for a 10-year-old company. Dubious indeed.
But that's not it, their website claims they either ghostwrote or published The House Guest, a book by the infamous best-selling writer Mark Edwards, who has sold more than 4 million copies of his books.
The thing is, Mark never really used a ghostwriter, and hey, there isn't anyone to stop this company from claiming so, so why not I guess? Lol. They haven't worked on this book, just a cheap marketing tactic.
Unfortunately, there is also no pricing info on their site. Hence, you will have to contact them to get a quote and learn about their refund policy.
2.

Mark Graham Communications
Mark Graham Communications (M.G.C) is a professional ghostwriting and editing company that claims to be successfully operating since 1992. Besides writing, clients receive cover design, promotional, and publishing support.
M.G.C has expertise in various genres like biographies & memoirs, self-help, spirituality, health, and business books.
It features a vast collection of books on the website for you to explore. In the Writing Samples section, you can also read excerpts from the biographies and novels they have written.
Cons:
What I didn't find cool is that pricing isn't mentioned on the website. The overall website is pretty simple and plain. There are also no client reviews available on the site, which is such a bummer. I visited Sitejabber and Trustpilot for some social evidence but found nothing.
Then, I finally landed on Yelp and found this: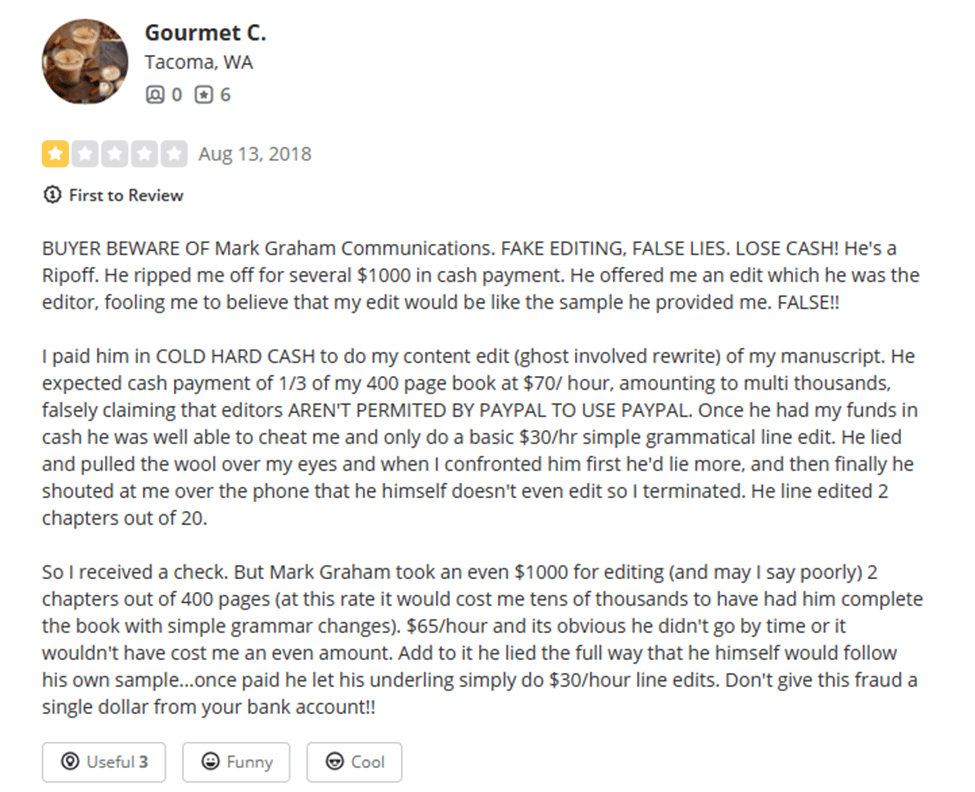 Honestly, the current situation doesn't paint M.G.C. in a positive light.
The company has an impressive three-decade-long presence in the industry, this claim is made by them, without any online proof of it. Their team has collaborated with multiple clients and produced a substantial body of work. And there is surprisingly still a lack of social proof to back their claims.
I advise scheduling a call with them to discuss your project in detail and address any doubts. You can move forward with confidence if all your questions are answered.
And if you are still not satisfied, come back to this article and check the next company. 👀
1. Writers of The West
Lastly, Writers of The West. An all-in-one solution to all your ghostwriting and publishing needs. They offer ghostwriting, publishing, editing, marketing, printing, publishing, and distribution of books.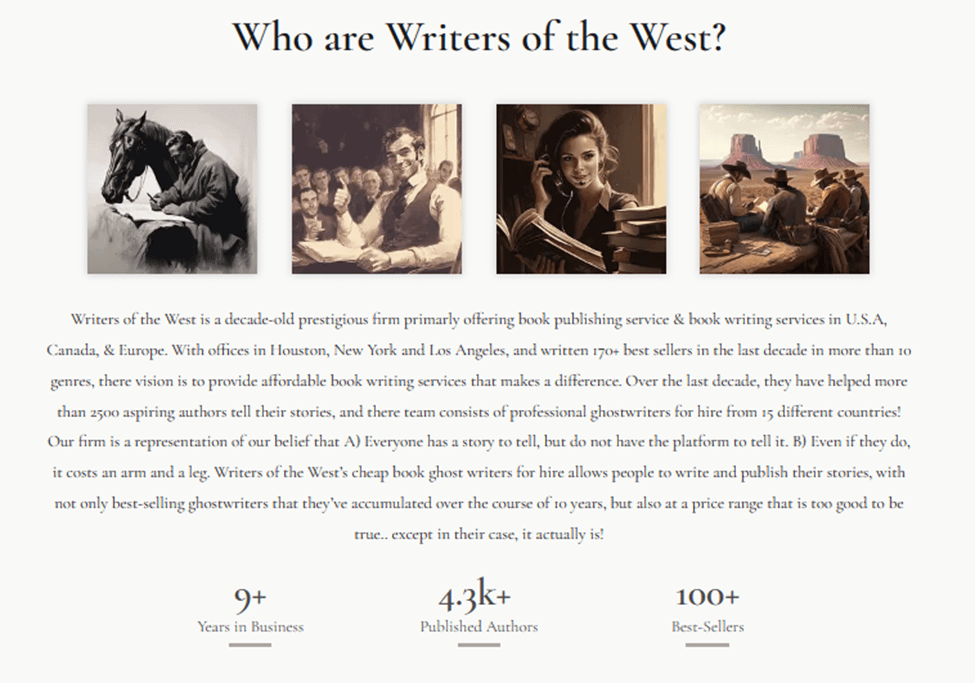 Writers of the West specializes in various book genres, including fiction, technical, Christian, self-help, children, biography, and memoir.
While many claim to adapt to the client's tone, Writers of the West is the only company that matches you with someone similar, as they don't just have a couple of writers on their team like their competitors, but more than 100+ writers as freelancers, on a contractual basis, that all come from different parts of the world, the diversity they have to offer is impressive indeed.
Hence, they have more reach, more writers working with them, hence more for them to choose from, depending on the author's tone, background, way of talking, nature, etc.
Their ghostwriting and publishing prices are great, publishing starts from just $500, and goes up to $3000, depending on the author's budget, needs and overall vision for the project. Writing also starts at about just $500 and goes higher up, depending on factors revolving around the author and their story.
When comes to online reputation of delivering quality plus a price point that is too good to refuse, Writers of the West tops this list, and any other honest list.
No Matter where you look, their customers love them, below is transparent proof: Starting with Google: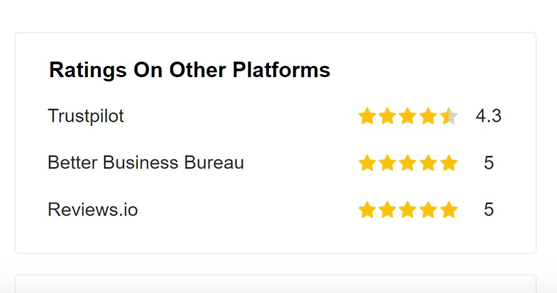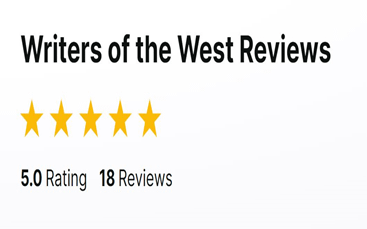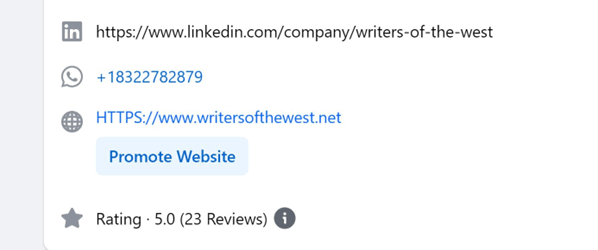 You can also check what their customers have to say yourself:
Some important facts about this Texas-based book ghostwriting & publishing company that make them stand out from their competitors:
1. They operate worldwide.

2. Have authors from all around the world.

3. They publish books, with publishers, globally.

4. Book distribution to all major bookstores and libraries.

5. Offer payment plans with zero interest as well as affordable prices for book writing and publishing.

6. Offer a self-paced program, the author continues at their own pace.

7. Writers of the West offer services to all of the U.S.A., & Canada. Besides Houston, they also have offices in Los Angeles and New York.
Contact Details for Writers of the West: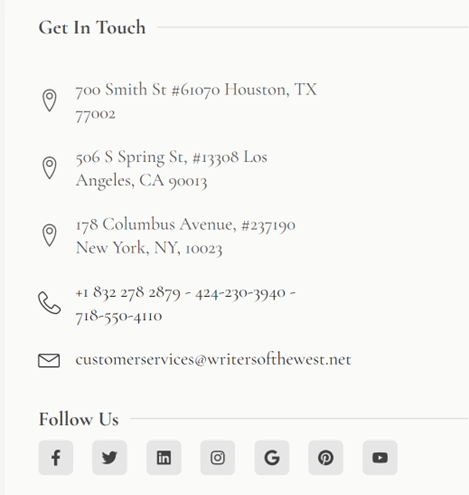 So, there you have it.
You can undoubtedly get your book ghostwriting services, book publishing services, and marketing from many ghostwriting agencies.
But if you're in search of a well-reputed partner who truly gets you, offers round-the-clock support, and provides end-to-end services without breaking the bank, don't hesitate to reach out to Writers of the West. We'd be thrilled to welcome you aboard!
Cheers!